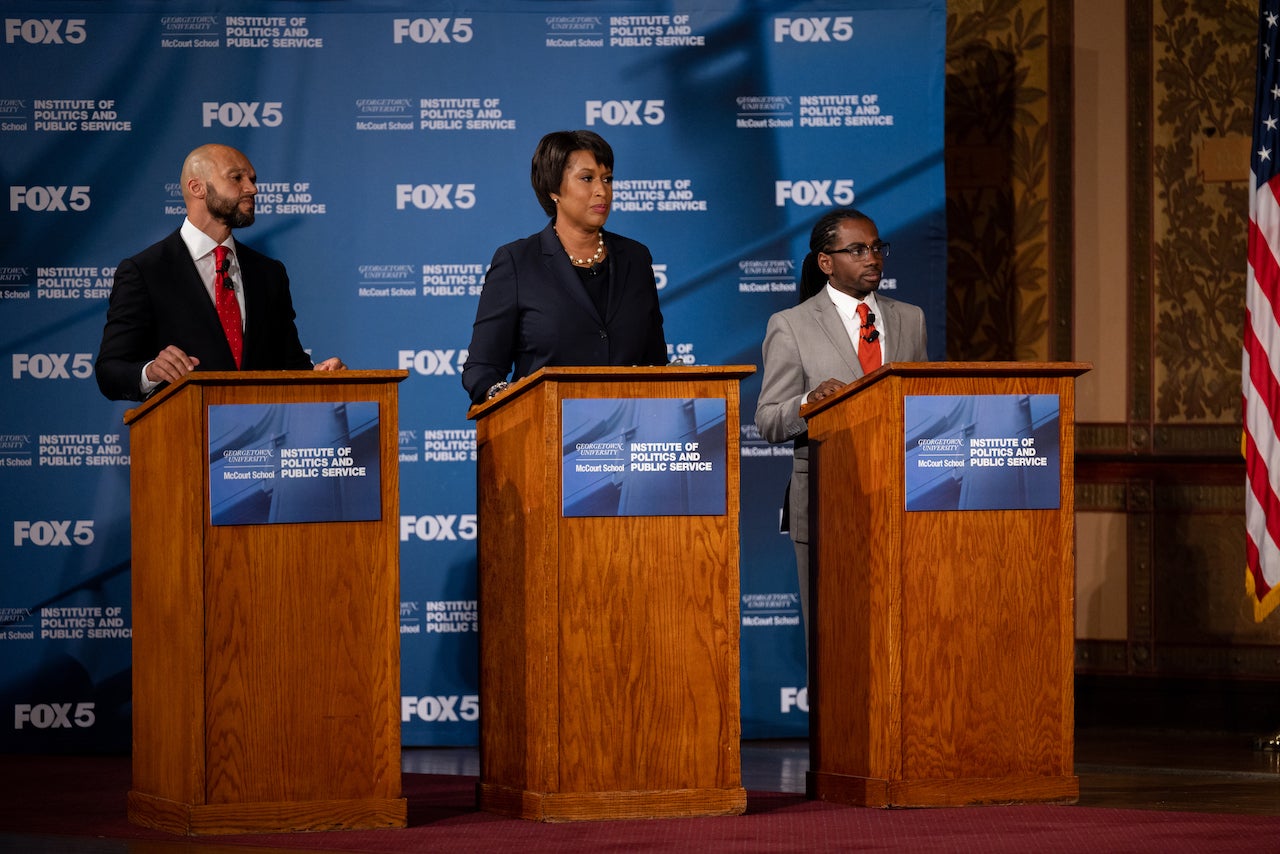 As the Democratic primary for Mayor inches closer, the candidates had one last shot on Georgetown University's campus in Gaston Hall on June 1 to appeal to voters. 
The event was hosted by Georgetown University and its Institute of Politics and Public Service (GU Politics) at the McCourt School of Public Policy and WTTG Fox 5 DC. The DC Democratic Party co-sponsored the event. 
Georgetown University has been a convener for several important conversations involving issues related to national and global politics. Being able to offer the DC community a front row seat to local politics was very important for Georgetown, a place that has been a part of the fabric of Washington, DC since the birth of the republic.
Gaston Hall was packed with DC residents who were interested in hearing where the candidates stood on issues impacting the community. 
Mayor Muriel Bowser, who is seeking a third term, At-Large Councilmember Robert White, and Ward 8 Councilmember Trayon White were the three candidates who participated. 
The moderators who facilitated the debate were GU Politics Executive Director Mo Elleithee, Fox 5 DC morning anchor Jeanette Reyes and Fox 5 DC political anchor Tom Fitzgerald. 
The debate, which aired live on WTTG Fox 5 DC, covered many important issues: crime, affordable housing, education, and mental health.
In the first portion of the debate, Robert White and Trayon White argued that Bowser had been too slow to create violence interruption programs. 
Bowser accused her opponents of reducing police funding in 2020 in order to "serve an ideology" instead of serving the DC residents. 
"I am proud that in my administration, I stood up a violence prevention agency," Bowser said. "We started small and we have grown to every part of the city, making sure that we have people from the neighborhood, who know the issues to connect people to the services that we have." 
Robert White interrupted Bowser and said she was a "roadblock to violence and intervention." 
"It is a shame that in the District of Columbia, we cannot find a way to stand up and say to our communities that we can't protect you with things more than police," Robert White said. "That is what my comprehensive safety plan gives us." 
During the segment on education, Robert White stressed the importance of working harder to give children and young adults the best support they need in order for them to be successful adults in the future. 
"We have to do better for these young people, and they will do better in return," Robert White said. 
Near the end of the debate, Elleithee asked the candidates about a decision they made in their current job that they regret.
Trayon White said one of his errors was speaking "from the hip," which he says has hurt him in the past. Now he tries to be more "thoughtful" and "innovative" in how he approaches his work as a Councilmember.
Bowser responded by describing a political regret. 
"My parents always taught me to stand up for myself and defend myself and make sure people respect me. And that led me to oppose a sitting council member in her reelection," she said. "I don't regret standing up and defending myself, but I do regret that it got personal."
The full debate is available on the Fox 5 Washington DC Youtube channel. Visit the GU Politics Twitter for highlights of the event. Follow us on social media to learn more about our upcoming events and forums.